Church and Community Mobilisation is the process where the local Church works with its local community to identify and respond to their needs together. This is an exciting process of mobilising the community as the Church begins to be 'salt and light' by encouraging and supporting communities to analyse their own situations, and to take steps to work together to make changes for the better.
How the Church and community respond to the needs identified may vary. Responses may include self-help groups, improving infrastructure, advocating for improvement of or access to services or changes to unjust laws, and may also include projects to improve livelihoods.
Church and Community Mobilization Process and Disaster Risk Reduction Practitioners Forum
In January 2018 Church and Community Mobilization Process and Disaster Risk Reduction practitioners from Mothers Union, Episcopal Relief and Development, Anglican Alliance and CAPA participated in a forum whose focus was to explore ways to build resilience using Church and Community Mobilization Process as an approach in Churches and communities exploring capacity gaps on Disaster Risk Reduction knowledge and principles in Churches and communities and establishing a network for the community of practise coordinated by Episcopal Relief Development to strengthen Disaster Risk Reduction work in Churches and communities.
Church and Community Mobilization Process Facilitators' Training Workshop –Thika Diocese
In February 2018, CAPA facilitated a workshop on community engagement in Thika Diocese. This introduced the facilitators to the concept of the "Good Samaritan" for community entry, mobilisation and group formation. This concept enables the Church to reach the poorest and wounded in the community. In this regard, nine groups were formed comprising aged, terminally ill and drug abuse victims to reach, widows and widowers and others.
Church and Community Mobilization Process Evaluation, Kigezi Diocese 2018
In July 2018 Kigezi Diocese commissioned CCMP evaluation. The evaluation focused on the relevance, effectiveness and sustainability of results that have been realized over the years of implementation of CCMP in the Diocese. There was evidence of the impact in all churches and communities visited.
Some of the recommendations included: building of a strong well-equipped resource team for scaling up CCMP in the Diocese, Mainstreaming CCMP in other Diocesan programmes and envisioning for Diocesan staff on CCMP.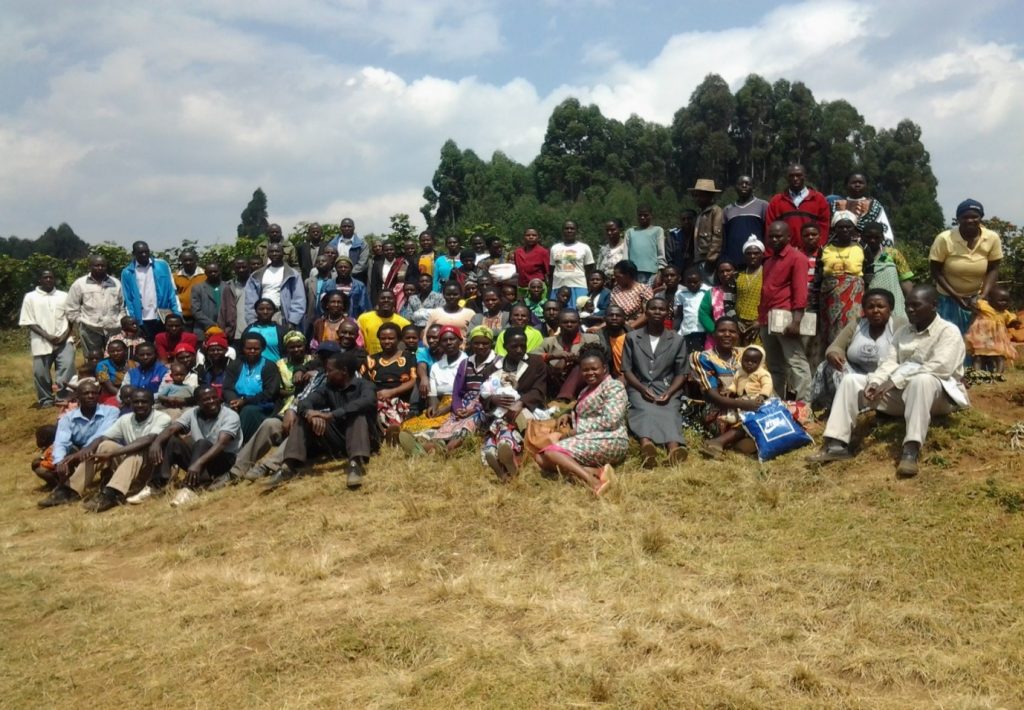 Church and Community Mobilization Process Support and Monitoring Visit in Malawi
In 2018, the Regional Facilitator visited CCMP facilitators in Malawi to monitor progress, encourage and support the team. During the visit a forum with all the facilitators was set up to enable them to share their experiences and clarify some of emerging issues in their context. The Churches and communities were left encouraged and refreshed.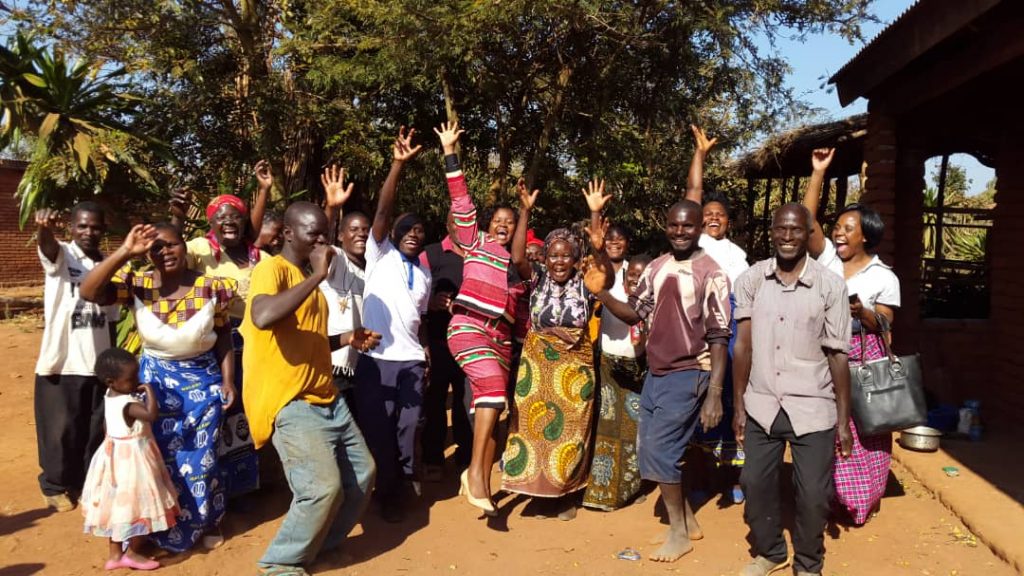 Church Led Transformation (CLT) Practitioner's Forum.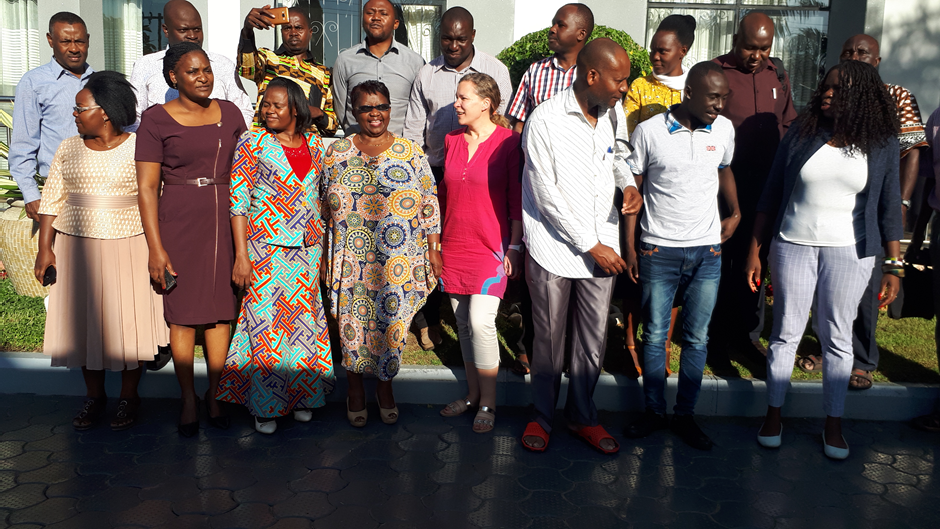 This forum brought together CCT practitioners from Southern and Eastern Africa cluster who congregated in Mwanza-Tanzania in February 2019, to explore CCMP approaches used in the communities and draw lesson from them and agree on one approach to promote The team developed a CCMP trainer's roadmap for the subsequent three years. The focus for the subsequent
three years would be in country progress reviews, documentation of best practise and identification of gaps as well as finding ways to fill them. The team agreed on: the need for skill development for the facilitators in areas such as Angola, Mozambique, Zambia and Malawi where CCMP activities seem weak and build a national team and The need to document lessons in Bible schools facilitating CCMP to inform next steps as the project scales up in other collages.
United Nation Commission Status of Women 63 (Uncsw63).
United Society Partners in Gospel (USPG) supported CAPA to attend the UNCSW63 in March 2019 in New York. Apart from general participation in the UNCSW events, Revd. Fedis Nyagah was a speaker in a side event on "Amplifying the Value of Faith-based Partnerships" which was informed by the research done by the Joint Learning Initiative on Faith and Local Communities.
and spoke on Faith Frameworks that are used to enable gender equality and empowerment and identify how avenues and other frameworks like feminist and human rights, can be interconnected and opportunity that exist for governmental, intergovernmental and civil society cooperation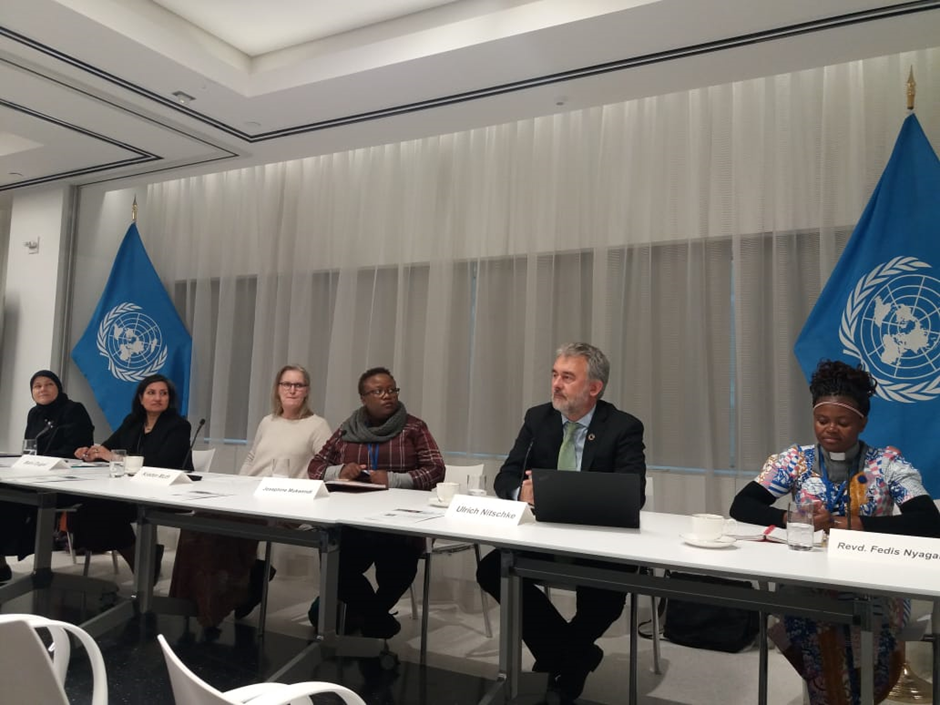 Giving teenage and young mothers means to achieve their dreams
CAPA partnered with Child Opportunity Trust (COT) on an interfaith empowerment project to focus on young teenage mothers. The project seeks to develop the life and advocacy skills for the young mothers, improve interfaith relations and empower them economically. CAPA made a partner familiarization visit on 26th March and met with the Programme Manager, Finance and the logistic officer. This team gave an overview of what COT is all about, the coverage and their target population and CAPA later visited the skill development center in Mumias run by COT.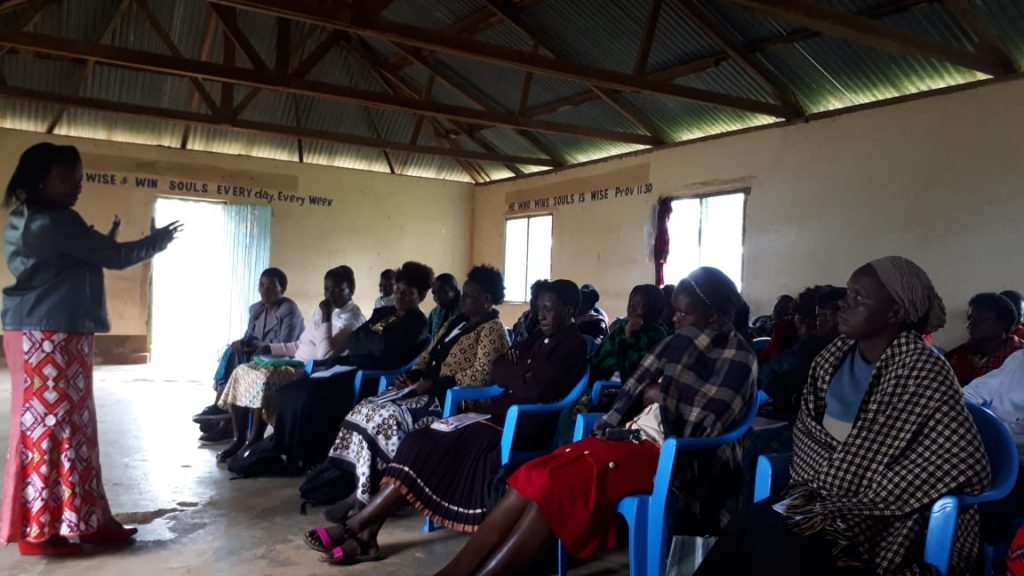 United Society Partners in Gospel Partners Forum – Mombasa, Kenya
In April 2019 United Society Partners in Gospel organized a peer learning forum for all her partners in Mombasa, Kenya. Partners shared their experiences, outlining what was working and lessons they were learning. CAPA participated in the forum as a partner and helped in organizing a learning visit to communities working with Anglican Development Service (ADS)- Pwani. The team drew lessons from the visit especially on the role of the Church leadership in sustaining impact. The team was also taken through a standard reporting templates and the reporting timelines.

CCMP Workshop in Ghana June 2019
This was the first facilitators training for internal Province of Ghana, and it brought together 35 facilitators from 10 dioceses. The trainee facilitators were introduced and discussed in detail the CCMP concept, principles and tools or the Bible studies. The team developed detailed action plans showing how they will implement CCMP in their Dioceses.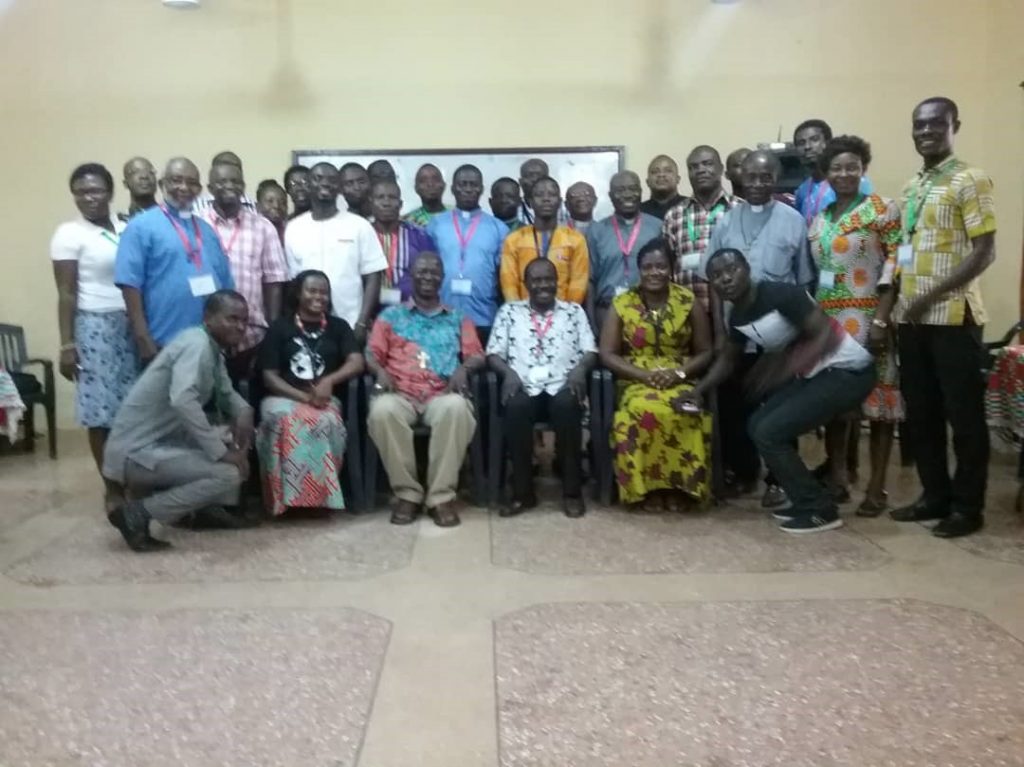 Anglican Church of Kenya CCMP Strategy Development Consultation
CCMP practioners and provincial team from Anglican Church of Kenya met in Limuru in June 2019 to develop CCMP strategy and terms of reference for reviewing CCMP work in the 11 Diocese. The strategy and Terms of Reference was adopted and launched by the Provincial Secretary.
Church of Province of West Africa Synod
The Church of the Province of West Africa Synod was held in September 2019.CAPA was invited to make a presentation on how to mobilize and build a vibrant and sustainable Church in West Africa. The delegate agreed to support CCMP in their Dioceses and help in laying down strategies for empowering the Church.

Churches Witnessing with Migrants (CWWM) Workshop
On May 8-10, 2019,the Council of Anglican Provinces of Africa (CAPA) convened a regional workshop to define and strategise on how to operationalise a regional platform for migration and trafficking, and design a coordinated response of Churches Witnessing With Migrants-Africa (CWWM-A). The meeting was held at Desmond Tutu Centre in All Africa Conference of Churches (AACC) Nairobi, Kenya. It was attended by 45 participants from Francophone, Lusophone, Arab phone and Anglophone Africa, comprised 19 men and 16 women and 9 vibrant and well-resourced youth. It also drew survivors of trafficking and migration and partners organisations namely CWWM global from USA and Philippines, the State Department of the Episcopal Church of USA, The Anglican Church of Canada, Act Alliance as well as the African Union (AU).
CWWM-A is an affiliate of CWWM global. It is a regional platformof a tripartite network of grassroots migrants, migrant-serving institutions and faith communities and individuals and partners working for the dignity, hospitality, and companionship of all migrants, refugees and Internally Displaced Persons (IDPs). The CWWM-A vision isa world where all migrants feel safe, are treated with dignity and are empowered to realize their full God-given potential. The entity is structured to work as a regional platform based in CAPA in partnership with 5 other sub-regional platforms. The Platform exists to build and strengthen expertise in the members; to flag out advocacy issues in liaison with All Africa conference of Churches (AACC) liaison office at the African Union (AU), and foster global partnerships to support programmatic work and response to migrants, refugees, IDPs as the primary stakeholders.
Migration is both voluntary and forced. The drivers, trends and patterns of voluntary migration within and outside national borders are the growing disparity in development between countries and regions, poor socio-economic conditions, low wages, high levels of unemployment, poverty and lack of opportunities, lack of good governance, perceived opportunities for a better life, higher incomes, greater security, the pressure to join relatives, families and friends, better quality of education and health care at the destination countries influence decisions to migrate.
Migration is categorised as labour migration that is mainly intra-regional; refugee flows that are inter and intra-regional; irregular or cross-border migration (of specific ethnic groups and pastoral peoples) mostly in West and East Africa, and IDPs mainly due to environmental/climate factors & civil strife. Such migration accounts for more than 30 million Africans (about 3% of the continent's population) are living outside their countries of origin, and evidence suggests that this figure is growing. Most international migration today is related to seeking employment. More than 90% of all international migrants are workers and their families. The number of international migrants by major region of origin as a share of total population shows that Africa in 1990 was at 3.2%, in 2010 had dropped to 2.7% and in 2017 slightly rose to 2.9% as compared to for example Europe that was at 6.6% in 1990, 7.5% in 2010 and 8.2% in 2017, while Asia was at 1.8% in 1990, 2.1% in 2010 and 2.3% in 2017.
With the exception of Southern Africa, the migration profile has the median age of less that 30 years, an indication that the majority of migrants in Africa are youths. There has been an increase in the feminization of migration on the continent. In general, the percentage of female migrants is between 40- 50%. The reasons for the increase in female migration include: moving independently to seek for economic opportunities (trade and employment), education, family re-unification and marriage.
Irregular migration in Africa is increasingly characterized by smuggling and trafficking in human beings. The majority of the trafficked/smuggled are youths, including young women and children. They are being trafficked by often officially registered agencies and sophisticated organized criminal groups. Organ extraction is another lucrative and growing trade associated with human trafficking.
There is a nexus between Human Trafficking (HT). Terrorismis a multi-million-dollar industry, and there are studies to show that some terrorist groups (IS/Al Shabaab/Boko Haraam) are involved in Human Trafficking as a means to finance their operations and recruit terrorists. IDPsalsoprovide fertile ground for traffickers/smugglers to fish for "clients". This form of recruitment thrives on the very low levels of awareness of Human Trafficking among refugees/IDPs.
Historical baggage and challenges related to current geo-political context and continued effects of neo-liberal economic trends, trade wars, fuel migration. The IMF's lower projection for global economic growth in the beginning of 2019 at 3.5 %, as compared to their projection in October 2018 at 3.7 % have a bearing on migration. In addition, the Organisation for Economic Co-operation and Development (OECD) recently announced that the global gross domestic product (GDP) growth for 2019 would be 3.3%, down from 3.6% in 2018 in a context where 61% of the world's workforce in 2016 were in the informal employment.
CWWM-A is cognizant of the global positioning of migrants who lack decent work in general, and in particular suffer the worst forms of human rights abuses. This is the case in 10 of the worst countries for workers due to poor working conditions from labour flexibilization. In addition, 92 out of 142 countries, exclude groups of workers from labour law, and less than 87% of countries deny some or all workers their right to strike, 81% of countries deny some or all workers collective bargaining, while 54 countries deny or constrain free speech and freedom of assembly.
The most recent analysis of the global trends located within therising right-wing nationalism in the world are manifest in some countries in form of continued use of fascist demagogy; Christian fundamentalism, Islamophobia, racism, misogyny, xenophobia to mobilize the "alt-right" versus militant mass movements. Based on all the above, the members resolved:
To set up a regional and 5 sub-regional platforms as well as global partners to work around strategic themes and priorities to include, but not limited to, operating regional and sub-regional structures and systems; defining processes to champion membership growth, and effective decision-making;
To advocate for resource allocation for responses to migration on the continent: resources for managing migration are skewed in favour of source regions for migrants moving on the northern corridor to Europe (West/North Africa Region/Horn of Africa). The Church, including partners like Caritas Africa, shall add its voice in this advocacy drive to reroute resources in Europe through its northern partners;
To use of social media: this began with 2.5 million target that was gladly exceeded during the workshop. The aim is to set up a media department at the CWWM-A secretariat, and to champion research to support knowledge generation and advocacy in partnership with member organisations and universities and identify advocacy issues and outcomes;
To accept the invitation of the AU for support on situation analysis, research and monitoring and evaluation of migration policies, and collaborate with the various AU bodies including: The Migration Observatory in Morocco, Africa Research and Study Center on Migration in Mali and The Continental Operational Center (on Irregular Migration) based in Sudan. All these are set to be ready by the end of the year 2019;
To accept AU advise to Engaging in awareness campaigns on the realities and dangers of human trafficking and migration among refugees/IDPs; provide safe-houses for victims of human trafficking and migration; rehabilitate victims of human trafficking and migration (psycho-social support and/or livelihoods/skills training, etc.) and carry out Advocacy work around modern-day slavery among refugees/IDPs;
To launch a campaign that coincides with the 50th anniversary of the adoption of the 1969 Organization of African Unity Convention on Refugees and use it to work within OSF as there will be several commemorative events across the continent during the year to be organized by the AU and its partners;
To orient migrants and equip them with well tabulated and analysed information on migration and trafficking before departure, along the migration routes and at destination, and to conduct hospitality and migrant-led service-provider mapping, monitor and report partner program performance and foster strategic global partnerships for comprehensive responses to migration and human trafficking as an evil;
To uphold a call to action that is premised on theological and contextual analysis strengthened through strategic regional and global partnerships framed around a grounded appreciation of migrant needs for dignity, hospitality and companionship, and to do nothing for migrants without migrants; champion migrant-led solutions, be accountable, build our skills and expertise to enable us reach-out and meet member's needs;
To address brain-drain by exploring possibility of participating in short-term return programs of African medical professionals in the Diaspora. This entails supporting the return and placement of medical professionals in needy health institutions on the Continent such as the Ghana/Zimbabwe, whereIOM facilitated the voluntary temporary return of professionals working abroad to work back home in sectors experiencing shortages, especially the Health Sector;
To continuously learn from each other and foster close collaboration with partners to share learnings, mobilise resources to support evidence-based advocacy and decision-making on migration and human trafficking including supporting migrant needs in sending countries, in-transit and in host countries;
To counter false narratives on migration and counter discourses that have been fuelling negative perceptions on migration and generate re-narrativisation to include uncovering the truth and showcasing, to the beneficiaries, the real impact on the ground of false narratives. This to be done by grassroots intelligence and organization and through data that can only come from people on the ground. It cannot come from an academic researcher who parachutes and comes with generalizations;
To address the ideological nexus between capitalism and forced migration; terrorism and irregular migration.
To build on existing synergy to ensure migrants are treated with dignity, met with hospitality and have companionship through their journey and ensure 'nothing for migrants without migrants.'; and
To continually draw strength from the assurance that,
"…if you have faith the size of a mustard seed, you will say to this mountain, "Move from here to there", and it will move; and nothing will be impossible for you.'