``Because of your partnership in the gospel from the first day until now.``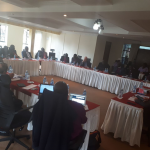 CAPA's Strategic Plan (2018-2020) was presented to the Partners at a round table meeting in April 2018. The objective of the Round table was to enable partners internalize the strategy and to explore ways in which it could be resourced.
The partners appreciated the holistic approach reflected in the strategy, and the sharpening of CAPA's implementation framework, which is focussed on hosting, catalysing, equipping and accompanying the member Provinces.
The Healthy Church paradigm was adapted as the way of renewing the Church on the Continent and was welcomed and recommended for piloting in other Anglican Provinces beyond Africa. CAPA was encouraged to work towards multiple sources of funding and to put in place a strategy for sustainability.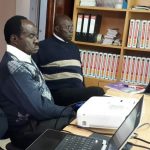 As each has received a gift, use it to serve one another, as good stewards of God's varied grace. 1 Peter 4:10
The CAPA secretariat is much more than a team of colleagues but a family that beckons the feeling of home. We are bonded by chords of love, kindness, generosity and Godly counsel. We share smiles and sometimes tears, more to that we share in the call of Christ.
2018 & 2019 has had us grow and be part of various changes. Among them was the honour of witnessing a transition of two great men our former General Secretary Canon Grace Kaiso and our new General Secretary Venerable J. W. deGraft-Johnson.
For this and more we give God the glory. We thank our partners: May God forever keep you and nourish you. To our members may God refresh you as you have refreshed us. And to the entire CAPA family God bless you abundantly.