THE CHURCH OF THE PROVINCE OF UGANDA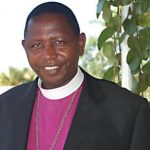 The Most Revd Stephen Kaziimba,
Primate Archbishop of Uganda & and Bishop of Kampala
P.O. Box 14123 Kampala, Uganda
Location: Church of Uganda
Willis Road – Namirembe,Kampala
By Fax:  +256 414 251 925
By E-mail:  COUOffice@gmail.com
Provincial Secretary
The Revd Canon Capt William Ongeng
Provincial Treasurer
Mr Richard Obura
History
After its founding in 1877 by the Church Missionary Society, the Church grew through the evangelization of Africans by Africans. The first Ugandan clergy were ordained in 1893 and the Church of Uganda, Rwanda, and Burundi became an independent Province in 1961. The history of the Church in Uganda has been marked by civil strife and martyrdom. In May 1980 the new Province of Burundi, Rwanda, and Zaire was inaugurated; the Province of Uganda has grown since then from seventeen to thirty seven dioceses.